Winters Don't Have to be so Hard On Home Plumbing Systems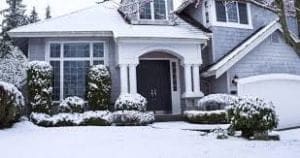 Your friends here at American Way Plumbing, Heating, and Air Conditioning have been down with a case of cabin fever for a while now, and it got us to thinking about good ways to spend time as a homeowner here in New Jersey while still locked into the clutches of wintertime.  We quickly realized that wintertime was something many people don't realize is hard on a home's plumbing system, and so we thought it would be good to cover some of the best lessons we've learned over the years about wintertime plumbing and preventative maintenance plans.to keep it all running smoothly like it's supposed to.
Top 5 Wintertime Plumbing Maintenance Essentials:
#1: Be Careful With Your Drains

This is good advice year-round really but applies so much this time of year because plumbing systems are prone to more problems, such as clogged drains, in the colder months. To avoid clogged drains altogether, pay attention to what you put down them and change your habits accordingly.  For instance, never pour fats, cooking oils, or significant food waste down your drains.   We also advise using hair traps in your shower, and to rinse out the tub out after use.

#2: Make Sure The Whole Family Knows How To Shut Off Water

In case you ever have a plumbing emergency where flooding or sewage backup could cause serious damages, make sure you instruct the whole family on when and how to shut off water service at the main.  Have them all show you how to do it afterward to make sure they understand!

#3:  Insulate Pipes That Tend to Freeze

Insulation is cheap and does a good job of providing that extra bit of protection from cold drafts that some pipes need to keep from freezing in the cold season, so do yourself a favor and get a couple rolls when you have a couple hours to spare and identify which pipes are susceptible to drafts and therefore likely to freeze, and just wrap them up.

#4: Check Your Water Heater Temperature

You should take time periodically to check your hot water heater. Make sure there are no leaks anywhere, including at the pressure relief or drain valves, and that it's set to the optimal temperature of 120 degrees Fahrenheit.

#5:  Let Water Drip on Exceptionally Cold Days

On days and nights that are extra cold or windy, it's always a good idea to let your faucets drip or even trickle to prevent the water lines from freezing.
There are a lot more things to do than this list entails, but if you can commit to these five maintenance tasks, your plumbing system will be in much a much better position to avoid freezing and other problems during the winter months. If you want to schedule an annual inspection and preventative maintenance service call, call American Way Plumbing, Heating, and Air Conditioning today. We have great deals this time of year!
↓ Get A Free Quote Today! ↓
• Bergen County
• Essex County
• Hudson County
• Morris County
• Passaic County
• Union County
These Are Just Some Of The Manufacturers We
Carry, Install And Maintain