Oil Hot Air Furnaces in New Jersey
Do you have an oil furnace in your home or business that needs servicing? Or are you looking to have a new heating system installed but don't know where to start? At American Way, we're the leading heating company in the area and the experts on all oil hot air furnaces. Our team of contractors is specialized in delivering quality services that include repairs, replacements, installations, and maintenance. No matter what oil hot air furnace service you need, we guarantee your satisfaction!
Oil Hot Air Furnaces Repair Services in New Jersey
Is your oil furnace not working efficiently? If you noticed that there's no heat blowing then it's time to call the professionals at American Way! The last thing you want is to go without heat at night and have to wait until morning to have it serviced. At American Way, we offer 24hr oil hot air furnace repair no matter what time or day it is. Our heating repair services are affordable and will ensure your commercial or residential oil furnace is working once more.
Oil Hot Air Furnaces Replacement Services in New Jersey
Are you tired of constantly needing your oil hot air furnace repaired? There could be something more seriously damaged with your furnace that an amateur probably missed. When you call American Way, you can rest assured that an expert contractor is inspecting your heating system. We know exactly what to look for and are licensed to know what needs to be fixed and what needs a replacement. We can replace any part be it a blower, switch, transformer, burner, motor, or air filter. If it comes down to having to replace the whole oil hot air furnace, we can do that too!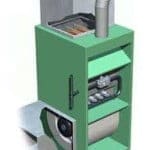 Oil Hot Air Furnaces Installation & Maintenance in New Jersey
Choosing a new heater can seem like a daunting task, especially when it comes to the installation process. With American Way's affordable oil hot air furnace installation services, you don't have to worry! We handle everything from picking the heater based on your preferences and budget to installing it. You can also count on us for routine heating maintenance for a one-time inspection or for an annual checkup!
↓ Get A Free Quote Today! ↓
• Bergen County
• Essex County
• Hudson County
• Morris County
• Passaic County
• Union County
These Are Just Some Of The Manufacturers We
Carry, Install And Maintain